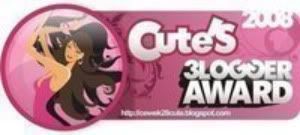 my gratitude to
ghee
for this cute award. happy birthday gurl!:)
I have not copied the entire rules for passing this award but one thing i remember is that you are going to write ten facts about your self. Ok, without much ado, here are some
facts
about me that some haven't realized even when I've been blogging for years.:D
1. i am the wackiest/
kalog
in my (HS)circle of friends (can you believe that?) hehe!
2. i love to make prank calls to my close relatives' houses..i would change my voice and pretend to be making business deals with them. after the trick, i would reveal myself while they hate me but laugh out loud at the same time.:D
3. my first ambition when i was still growing up is to be a 'sexytary'..hehe!sure ayy, gusto ko lang maging secretary...ewan bakit ako napunta sa teaching.hehe!
4. i love to groove (when no one's watching) even without music.:)
5. my very first serious performance in front of many was when i sang "kung kailangan mo ako" by rey valera when i was in high school.yayyy!:D
di ko na kaya umabot ng ten facts kasi kahiya na..hehe!am passing this on to
Bes
and
Jie
.